5 Tips on How to Compete with Cheap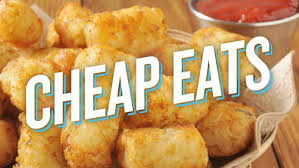 Regardless of what industry you are in, we are always faced with having to compete with cheap. Cheaper imports, cheaper services, cheaper products…… and the food industry is no different! There will always be competitors trying to gain market share with a cheaper offering.
Competing through price is nothing new, but it can be a very slippery slope. Training your customers to think you will always be the cheapest option will backfire if you need to increase your prices. What happens if your ingredients increase in price and you're no longer able to serve cheaper products, what happens if there is a jump in your rent or your staffing cost?
When you compete through price, there's only so far that you can go. You have to increase your customer volume in order to make up what you're losing by not charging what you should be.
What other tactics can be used when it comes to competing against cheap?
What's Your Story?
Restaurants and cafes have been around for a long time and every style of cuisine has been represented. So how can you stand out if you want to open up a burger joint, a pizza place, or a small bar?
Just focusing on competing with the guy next door is a dangerous game. Chances are you will lose if your neighbour has been around for a while and is doing things right!
You have to figure out what's going to set you apart from any other restaurants out there that are currently doing what you want to do. What is your unique story, what do you bring that is different from the café next door?
When you have a story that your customers can fall in love with and have a unique angle on a concept or cuisine, you'll always win. As long as everything else lines up and you run the business effectively, you'll always be able to win customers and create a sustainable business.
Quality
Today's generation wants good, quality food. They want to know about the produce and often delight in locally-sourced, ethically responsible food. If you offer this, make sure to promote it, think free range eggs, locally smoked bacon, single source fairtrade coffee, instore baked bread and slices.
Your food doesn't necessarily have to be local, organic or gluten-free to compete with the cheap restaurants, but make sure your food is better. Offer hand cut fries, house made sauces, a selection of non dairy milks, gluten free / paleo / vegan options, and make sure everyone knows about it!
Offer Better Service
Offer the best customer service possible. One look at any Google review will tell you that customers value great service. They want to be warmly greeted by someone with a smile who appears to like their job. They want prompt attentive service as well as a pleasant relationship.
Get to know your regulars by name, remember how they like their coffee, add small personal touches when you can.
One of my most memorable experiences was ordering my regular chai latte and it came out with "Hi Chelsea!" written on the saucer, so memorable in fact that I felt impelled to take a photo. It is a small personal touch that gives you warm fuzzies and makes you feel like a valued customer.
Offer Atmosphere
Cheaper restaurants are usually looking for quick turn-around. The more customer turnover, the more money they make. Yet, this isn't always the case.
Encourage your customers to linger. Keep your focus on what really matters, and that's creating great customer relationships resulting in regular, repeat customers who sing your praises to all of their friends, family and co-workers.
Create a beautiful atmosphere that feels like home for customers, a unique feeling that can't be replicated by a cheap restaurant. Give your customers an experience they will remember.
Stay in touch
The big guys collect email addresses, and if you aren't, you most definitely should be.
Give your customers a reason to subscribe:
Birthday bonuses
Special offers and promotions
Anniversary specials
Invite-only events and tastings
Exclusive recipes
Once you've got your email list, stay in contact. Build your relationship and make it personal. Offer incentives, "secret" inhouse recipes and cooking tips.
You'll be able to track diners through the program and remind them if they haven't dined in a while.
Use your social media presence and blog to offer printed recipes as well as video recipes similar to a cooking show, but much shorter. This is the ideal chance for you to personalize your restaurant and make customers feel like they are part of a special group or "family." You are sharing something very special with them in the form of a recipe. Going one step further with the video introduces customers to your chef.
Get involved in a local cookbook or network with your local newspaper's food editor. Ask if you can be a guest blogger or contribute some recipes. Exposure builds familiarity with a potential customer before they even step through your door.
You can successfully compete with cheap with creativity, quality food, relationship building, great service and a few well-planned incentives.